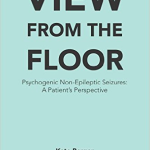 I absolutely love this book!
View from the Floor is such a delightful book that even after reading it 2 times, I still find it shakes me with its honesty and its superb writing style.  Kate Berger speaks in a clear and strong voice throughout and shares generously with the reader. If you have ever wondered what it is like to live with psychogenic seizures: when they first start, to what it is like to interact with the medical profession and the mental health field, and wondered how to best explain the condition to friends, family, workmates, the general public, and worried about the caregivers, and much more, you should read this book. I had the pleasure of being consulted by Kate while she was carefully crafting her book and even in draft form, I was taken aback by how well it explained PNES.  Although she kindly mentions me in her acknowledgements as an "editor" the bulk of my contribution was basically a couple of thoughts from a professional's perspective and a request that she add a bit more information about the precursors of her first seizure.  But honestly, there was nothing that needed fixing in what she was writing because her work is really impeccable.
Her explanations of therapies for trauma and how stress ties in to PNES as well as her reflections on trauma and PTSD (Chapter 1 and Chapter 2: The Trouble with Trauma) as they relate to PNES are so well written that this will not only benefit patients and loved ones; mental health professionals would also do well to read this book. Chapter 3: The Doctor Dance offers spot on advice on how to find the right treatment team and how to assess the treatment being provided.  I especially appreciate this chapter because I think it is very important for patients to be educated and prepared to make sure time is not lost and treatments are more effective.
Chapter 4: Don't Worry, I'll Fix It describes beautifully what I have often seen in many of my patients diagnosed with PNES: a tendency to want to find the "magic pill" or the "one change that will solve things." Unfortunately, in order to get a handle on the seizures, considerable and effortful work is needed and Kate explains that really nicely. In the following chapters when she discusses psychiatric hospitalization, other very dark moments of PNES as well as the importance of feeling, she continues to share pearls of knowledge that can benefit many readers.
I could keep gushing praise, but I will stop here and just say: read this book. And we should all keep an eye on Kate Berger because she is an incredible young author who I suspect will keep producing awesome work.