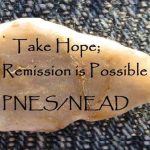 Instructions: Read this poem and then read what the author Christine Mauriello explains about how this poem came to be and how she has dealt with her mental health issues over the years.  When I first read this poem I was struck with how clearly it expresses the pain so many people with mental illness feel as well as how tragic it is that this pain is too often not heard.
She is now seizure-free and has some important thoughts about it at the bottom of this post.  She also administers a very active and interesting YouTube channel that you might want to visit after reading this.
Please Hear What I'm Not Saying
You hear what she says, and there is nothing to that
A pin can drop, you can hear that but what does it say
She says everything is fine and she needs nothing of anyone
But please do not believe her
She says that her world is fine
She says that things couldn't be better and leaves it at that
Please see inside, please look where no one will
Look past her various masks and lies and hear what she's not saying
There is a desperate child inside, a child who screams through the nights
This child can only cry when alone, alone she feels safe
Please see that child, hold her and tell her everything will be all right
She will wipe away the tears and say she's okay
But please don't believe her
She lies to herself as well as the world
The pain inside, the pain she hides, slowly poisons her, she is dying
Can't you see, it's slowly killing her
Please, please hear what I'm not saying
Christine Malick (Mauriello )
"I wrote this poem in high school, what seems like a million years ago… a cry for help hidden among other entries submitted for a poetry competition.  Writing poetry and journaling was the only thing that alleviated even a little of the intense emotional pain that I carried.  I truly believed that the burning flames in hell could alone equal my pain, and I feared hell was close. I submitted my plea, along with the last bits of hope that remained.  I prayed that someone would read my thinly veiled S.O.S. and rescue me, but instead it was chosen to be published in a compilation book for the National Library of Poetry.  My hope was gone.  All I got in return was a book that immortalized my once private pain, and confirmation that no one cared.  I felt confused and betrayed.
A couple years after graduation I had reached that point of desperation again – this time I changed my approach.  The word psychopathology means the study of the suffering soul – that sounded about right, so I jumped into the trenches of cognitive behavioral therapy.  There was a lot of healing and recovery over the next decade with different therapies, yet I still ended up with PNES – obviously something was missed.  Once again I mustered all my strength, grabbed my shovel and started excavating my weary soul.  Therapy wasn't available to me this time around, and ultimately I'm grateful.  All the previous years in therapy had taught me where to begin… it was in the patterns of my life. I applied a new concept that I had learned from warriors of recovery – I learned how to find my part within the pattern so I could overcome the challenges they presented.  I also learned how to make an amends and retire a resentment/hurt.  Now a year and a half into my recovery I have given meaning to PNES by using my journey to help others via YouTube (https://www.youtube.com/channel/UC4PEnDX9wY6XsrNVG8G7QDA) and Facebook, thanks to another principle of recovery, you can't keep it if you don't give it away."