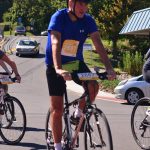 A year ago, riding in a bike marathon seemed like an impossible challenge since I had only ever ridden my bicycle recreationally, had never done anything marathon-like ever before and had not even been an especially athletic child or youth growing up. 
Now, less than a year later, bike riding through the Northeast of the US to raise funds for the Epilepsy Free not-for-profit and to raise awareness about seizure disorders is becoming a bit of a habit for our team of riders who have joined the team on different rides and myself. 
I think one of the things that keeps us going is that we recognize that this activity is terribly important.  First, it gets a whole community of persons living with seizures, their family, friends, and health professionals to rally around the upcoming event, share links, and offer very necessary financial support to Epilepsy Free. Second, it lets the whole community be loud and vocal about psychogenic non-epileptic seizures (PNES), giving all of us the chance to speak about all sorts of PNES topics and explain why scholarships for adults with PNES are so essential.  The funds that are raised, help support educational grants for adults living with PNES who need assistance to continue their education. 
So, our ride history now stands as such: On May 1 of last year, I rode through New York City with an entire community having donated over $3000 (and the Northeast Regional Epilepsy Group matching these funds with another $3000+).  Many were eagerly waiting to hear about the outcome.  It was cold and raining-sometimes almost a downpour- but it really started a tradition!  Gallery of pictures: http://epilepsygroup.com/events_gallery_detail6-22-136/bike-a-thon.htm
In September of 2016, Drs. Marcelo Lancman and Olga and Eric Segal rode along the New Jersey shore again raising funds and awareness.  Dr. Lancman and I did the 30 mile ride and the overachieving Segals competed the 50 mile ride.  Our team raised $1100 that day!  Gallery of pictures: http://nonepilepticseizures.com/epilepsy-psychogenic-NES-events-news-conference-2016-09-25.php
In just a few months, on May 7, Dr. Lancman and I, as well as a friend and supporter, Slavica, will tackle the 40 mile ride through all of New York City-rain or shine.  Please consider sharing this link and donating whatever amount that may be possible.  Believe it or not, every dollar that is donated motivates us to train all the harder! https://www.gofundme.com/riding40milesforseizures
 
The Epilepsy Free (EF) not-for-profit organization grants summer camp and continuing education and college to children and adults living with epilepsy and other seizure disorders including psychogenic non-epileptic seizures (PNES). It is the only not-for-profit I know of that specifically grants scholarships to those diagnosed with PNES (or NEAD) and it also grants scholarships across all 50 states (there is no residence restriction like many local foundations have). To help support EF, please go to this page: http://www.epilepsyfree.com/give-back/donation/