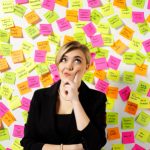 An almost universal cognitive complaint in persons with PNES is that their memory is bad and it is not unusual after going through neuropsychological testing of memory (verbal, visual, etc.), that these complaints are officially confirmed.  Although we are not sure, these memory problems are probably due to more than one reason.   
The most obvious answer is that if you are clinically depressed or anxious (which co-occur in PNES at high rates) your thinking takes a hit.  A depressed or anxious person may think slower or faster, as well as having problems with sustained attention, mental efficiency and memory.  Note, if you tend to dissociate (split yourself off from consciousness), you miss things and may seem to have "poor memory."
But there is also some newer research with imaging techniques (i.e. fMRI) in patients with post-traumatic stress disorder (PTSD) that has reported that persons with childhood sexual abuse and/or PTSD have observable differences in their brain structures.  How come?  It is known that when someone experiences a traumatic event, the body releases cortisol, neurotransmitters in the brain react, and primitive lower brain mechanisms take over.   In a child who is not yet speaking, visually may be the only way this information can be processed.  In a brain that is still forming, these processes may have a lifelong effect and change brain development. 
As a clinical psychologist, I have many times been impressed by the minute visual details patients can recall of their trauma; as if it were "seared" in the mind.  But also in everyday life, these patients seem to have better visual memory while verbal weaknesses and poor verbal memory is not unusual. 
At our center we tested 49 PNES patients with visual and verbal memory tests; those with a history of sexual abuse showed a significant strength on visual memory on the Continuous Visual Memory Test as compared to others.
So, for those who dismiss PNES as something that is "just psychological," don't be so hasty.  The fact that it is psychological does not mean it does not have some very real consequences.