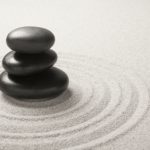 I was reading a few books by Dr. Kabat-Zinn, Director of the Center for Mindfulness in Medicine at the University of Massachusetts Medical School.  He reports how useful mindfulness is when working with medically ill patients who are in excrutiating pain.
I was intrigued by the concept of mindfulness and surprised by the similarities between it and the Western treatment approach I use with psychogenic non epileptic seizures.   We are on a similar track and that 's a good sign.
Some key ideas: Dr. Kabat-Zinn speaks of the difference between pain and suffering. Pain is inevitable as part of life with its ups and downs we all face at one point or another.  Suffering is one of many responses to pain and stems from how we frame and interpret the pain.  But how do we take a path other than suffering?   His answer "enter the pain, tune into it" rather than avoiding it.  How many times have I heard a patient say, "Seriously, you want me to talk about the rapes, the beatings, the memories?  I have spent my life trying to forget about them."  My answer: "yes, gradually, safely, together we will face the pain."  As counter-intuitive as it seems, avoiding, keeps the suffering alive and strong.  By opening the gates and inviting these memories to the surface, by being with them safely, we neutralize them. 
Another pearl: "You have only moments to live."  What does this mean?  That you should live today as if it is your last?  That you should live every moment in your life rather than letting the seconds of your day rush by?  That you should be in the here and now rather than living in the past and the future.  Probably all of these and more…  If we spend our energy avoiding, we miss so many moments in our life, we end up being mindless rather than mindful. Mindfulness and psychotherapy of psychogenic non epileptic seizures aim to shift the balance the other way.