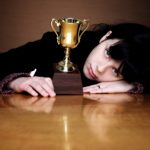 It does actually. The idea for today's blog post came to me after one of my patients had several episodes right after getting some very good news. She was confused as was her family about why this happened. This led to our talking about different kinds of stress and we were able to make sense of it. So, I thought it would be useful to share with all of you as well.
To understand it we need to talk about stress, distress and something also known as positive stress or eustress.
Stress happens when a force is exerted against something and produces pressure that strains that object. If the force is sufficient, the object may break. Sometimes we hear after a bridge collapses that they found "stress fractures" thought to have led to the collapse, for example.
Distress: is a psychological term in which the force is something seen as potentially toxic or bad (e.g. loss of job, breaking up, debt collectors calling at all hours, etc.); it presses against someone causing unhappiness and negative tension. If the force is sufficient, the person may become sick and/or have a non-epileptic event.
Eustress: is a very interesting psychological concept. The force is again an event that is seen as potentially positive and good but also strains the person who is trying to adjust to it and can lead to anxiety and tension.
This explains why sometimes a "good" thing (i.e. a promotion, getting a date with the girl of your dreams, getting a raise, etc.) may still be intensely stressful resulting in anxiety, psychological tension and a non-epileptic event.
The key is to have the knowledge (like you now do about eustress, for example) and to be aware and connected to your body and mind. Are you at rest and yet your muscles are tense, you're breathing, short/shallow breaths, you're sweaty, your heart rate is up? Connecting what you know about eustress and your body's messages will allow you to process this before it grows into a full blown non-epileptic episode.