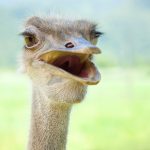 Dr. Selim Benbadis published an excellent editorial article in the Neuropsychiatry Journal this year in which he called out both the American Psychological and American Psychiatric Association for the absence of information about Psychogenic non-epileptic seizures (conversion disorders) they have on their sites. He pointed out that both associations have a plethora of mental health topics and diagnoses for which they provide facts. In fact, the APA-Psychiatric offers a total of 28 brochures none of which mention somatoform, somatization, conversion or factitious disorders! The APA-Psychological provides information on a total of 56 "psychological topics" with no mention of somatoform, somatization, conversion or factitious disorders! Dr. Benbadis calls this interesting omission by both APAs a reflection of an "ostrich policy." (http://www.nonepilepticseizures.com/downloads/Neuropsychiatry%20on%20APA.pdf).
Do they doubt the psychological nature of psychogenic non epileptic seizures, do they feel it lies outside their scope of practice because it overlaps with "neuro," are these patients scary because they are "too ill, or could it be guilt for having misunderstood and abandoned many of these patients in the past?"
All we need to do is to look at the history of psychology and psychiatry and we see it is built on the backs of these very same patients. Dr. Sigmund Freud, founding father of much of today's psych theories, developed these very theories by working with patients who had psychogenic symptoms. Theories about the unconscious, conversion of psychic impulses into physical symptoms… But he then turned around and redefined the abuse these patients had suffered as "fantasies" because the very possibility of child abuse at that time was so strongly rejected. I recommend reading Jeffrey Moussaieff Masson's book: The Assault on Truth: Freud's suppression of the Seduction Theory. This single act of having abandoned these patients represented a second and even more profound form of abuse and betrayal.
I challenge psychiatry and psychology to make amends and rather than ignoring psychogenic conditions you give them the rightful place they deserve on your sites, in your literature, and in your day-to-day practice. Hiding your head in the sand only perpetuates the pain these patients suffer.