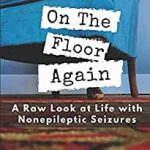 If you have been diagnosed with Psychogenic non-epileptic seizures (PNES) and are feeling alone on this journey, I advise you to pick up a copy of "On the floor again" by young author, Mia Montgomery. This is a highly entertaining book in which you will find yourself turning page after page, wanting to know what will happen to Mia in the end: Will that enchanted childhood become somehow marred by an unhappy event? After months of waiting, will the epilepsy specialists finally point her in the right direction to get these seizures under control? Will she figure out a way to continue to work as a therapist even if the seizures are still coming?
Mia treats her readers to a wonderfully honest, unadulterated recounting of what in her life led her down the path to develop PNES, the hardships that accompany PNES, and her continued heroic efforts to overcome and live life to its fullest no matter what it throws at her.
As a trained psychotherapist, she is most unique because she came to PNES already carrying with her the understanding of the psychological theories and concepts that are used to explain and treat this disorder. So, she is simultaneously, a patient and a health professional and as such, is in the unusual position of being able to speak about PNES from both perspectives.
As a reader, I thoroughly enjoyed Mia's humorous and conversational style throughout the book. The parts where she talks about having a seizure in her bathroom (there is even a picture of the toilet bowl as she could see it for the reader to enjoy on page 135) or the precautions to take in the event of having seizures in different outdoor sites, will have you chuckling. But don't be fooled, Mia also makes profound and sharp commentaries on a variety of topics, including the absolute pits of living with PNES and more importantly, the current woeful state of the medical field vis a vis PNES. Chapter 14: Good, Bad, Ugly is among the most honest and realistic takes on what life is like for someone living with uncontrolled PNES. And on pages 120-121 in Chapter 15: EMU Head, she says to her epilepsy team what many of you may have been thinking when you were sent out with nothing more than a diagnosis. She says it with sharpness, honesty and elegance; it deserves to be shared.
As you probably realized when I mentioned the picture of the toilet bowl above, Mia has one added laugh with her readers, by peppering it with a whole series of pictures taken from the floor after suffering different seizures.
I really enjoyed this book and think others will too. I had the pleasure of meeting Mia at our sixth annual PNES conference this October and only wish I had read the book before then so I could have told her in person, what a fantastic book she has written!
To get a copy, you can go here:   https://www.miamontgomery.com/product-page/on-the-floor-again-signed-paperback