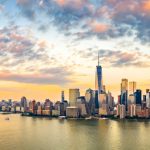 On October 19, 2019, we will hold our now historic annual conference on psychogenic non-epileptic seizures (PNES). This will be the sixth year running that we offer this educational program on psychogenic non-epileptic seizures for patients, loved ones, and health professionals. As always, the event is free of charge.  As always, registrations are streaming in from across the US and some have even come in from Europe.
One especially novel and exciting change is that it will be held for the first time in New York City (it was always previously held in New Jersey). We hope this will allow many of our patients from New York City, who often do not drive or have a car, to have access to this important program. This is the address of this year's event: The Roger Smith Hotel, 501 Lexington Avenue, New York, New York, 10017, New York, NY
We have also invited two exciting new speakers, one of which is a clinical psychologist, Dr. Paola Bailey, who works with an eclectic approach to PNES that involves mindfulness tools as well as other interesting approaches, and the other is Dr. Deepti Anbarasan, neuropsychiatrist who has a specialization in PNES which she treats with a comprehensive approach.
Our topics and schedule will be as follow:
8:15 – 9:15 Sign in and breakfast
9 – 9:15 Welcome and Program Introduction – Lorna Myers, Ph.D.
9:15 – 10 Introduction to Psychogenic non-epileptic Seizures (PNES) – Lorna Myers, Ph.D., Northeast Regional Epilepsy Group
10 – 10:45 The diagnosis of psychogenic nonepileptic seizures (from neurological and psychiatric perspectives) – Deepti Anbarasan, M.D., NYU & Private Practice
10:45 – 11:10 Coffee break
11:10 – 11:55 Treating PNES with psychotherapy – Paola Bailey, Psy.D. Private Practice, New York, NY
11:55-12:55 Lunch on your own
12:55 – 1:40 Patients with psychological trauma, post-traumatic stress disorder (PTSD) and PNES: treatment recommendations – Lorna Myers, Ph.D., Northeast Regional Epilepsy Group
1:40 – 2:25 Patients: how to help others manage your PNES? – Lorna Myers, Ph.D., Northeast Regional Epilepsy Group
2:25 – 3:00 Informal round table gathering for audience members who wish to stay behind and continue networking
Just like last year, we have obtained continuing education credits for psychologists and other health professionals attending the PNES conference. On the day of the conference, health professionals who registered could earn up to 6 continuing education credits.
Please note, as has become tradition, at the end of the day, all who wish to remain are invited to form part of an informal round table gathering for audience members to continue networking.  Over the years this has become the most interesting and stimulating part of the day which often leads to members leaving with multiple ideas and plans for the future.
We hope to see many of you there on October 19! Register here: https://www.epilepsygroup.com/register_events_3.php?idseccion=6&idnews=119&page=1