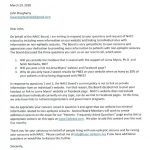 Every so often, I have an invited writer contribute something relevant to PNES on this blog.  Recently, I heard from John Dougherty, author of "Lowering the Shield: Overcoming Psychogenic Seizures" about a disappointing event in his continuing efforts to improve the lives of those living with PNES.  I agreed with him that it merits being shared with the PNES community and may help us, as a community, figure out what other paths to follow in the continued effort to disseminate PNES awareness.  Let me introduce John Dougherty:  John has been the spouse of someone living with PNES for decades and probably knows more about managing PNES day to day than most of us.  He has been advocating for PNES for years and set up the first PNES website ever in the US and maybe the world.  He eventually had to close it down because it required a lot of management (and he has a day job) but he continued to advocate in many other ways.  He is in regular contact with Dr. Selim Benbadis and me and from what I see in his blog post, has set up working relationships with several other prominent doctors in the epilepsy field. For years, he has been trying to engage the National Association of Epilepsy Centers (and other foundations) to establish better information and resources for PNES.  He decided to share with us in this post his recollections of his communications and effort over the past 5 years after finally receiving a disappointing letter this week.  Clearly, more needs to be done to increase the visibility of PNES, to educate the general public and health professionals, to provide support to those living with PNES and to their caregivers, but the NAEC may not be the right venue.  John and I would appreciate your input.  What do you think we should do? Where can we direct our efforts? Perhaps the NAEC is not the best place to focus  on for this? What other institutions could be amenable to work with us?
My frustration with NAEC
After almost 5 years of effort, delays, feeling ignored, what do we have now that's different from when I began to talk with them – Nothing. Here's the timeline.
June 18, 2013
My first contact with Ellen Riker, the Executive Director of NAEC. This was after my conversation with Phil Gattone, the President and CEO of the Epilepsy Foundation. He encouraged me to contact NAEC.
July 10, 2013
I was able to get a conference call with Ellen Riker and NAEC President David Labiner. During this call they asked me to submit the PNES support/business plan that I had told them I had created. They asked me to send it the first week of September, which was a few weeks before their board meeting.
September 3, 2013
I submitted my PNES support/business plan. Ellen Riker promised to reply in a couple of weeks.
October 3, 2013
Conference call. David Labiner said he would "take it to the next level" and asked me to secure three physicians to act as my advisory group. Also asked for a revised business plan to include many other items that they needed to be addressed.
October 10, 2013
I got three physicians for the advisory group. Selim Benbadis, Curt LaFrance Jr. and Brien Smith. Submitted revised business plan.
December 3, 2013
New conference call scheduled for December 30th.
December 30, 2013
Our plan rejected. They said NAEC will be taking steps internally "very soon" to address PNES. Said they would report back to us so we could report to our patient contacts.
January to December 2014
Repeated requests for update. Heard nothing from NAEC
February 9, 2015
Ellen Riker finally contacted me back. Said an agreement with Curt LaFrance Jr. was in the works for the use of his training on PNES patient care.
February 17, 2015
Ellen Riker states NAEC plans to update their website "later this year". Promises to take my suggestions about PNES to the board. Never heard anything from them. They confirmed that they have not finalized an agreement with Curt LaFrance Jr. To my knowledge nothing ever came of this.
March 2, 2015
Emailed Ellen Riker and notified her that I intended to share all updates, or lack of them, on my Facebook page as a service to all who are desperate for help. My hopes were to inspire them with the knowledge that they need to help out.
March 11, 2015
Call with Ellen Riker. Nothing happening yet.
November 20, 2017
Emailed Ellen Riker about having our PNES resources handout available to the NAEC centers and for links to be provided on their website. No reply.
January 18, 2018
Called and talked with NAEC representative who said they would forward my email to Ellen Riker again.
February 22, 2018
Reply finally. The board of directors will consider our request.
April 5, 2018
Our request is rejected.
The image in this post is the letter that John shared on his Facebook page and which he authorized me to share.  If you wish to read the letter, visit https://www.facebook.com/John-Dougherty-161680353996120/