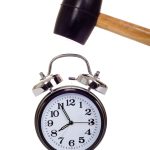 For the past year or so I have had a survey up on www.nonepilepticseizures.com homepage.  It asks: How long have you been suffering non-epileptic episodes? 109 responses were received.  Note that this is not a scientific survey that is based on those who wished to respond.
Over 40% reported that PNES has been part of their life for over 5 years!  Thirty-seven percent reported that PNES has been part of their life for 1-5 years.  And a 22% reported that they had been dealing with PNES for less than one year. 
A likely contributor to the lengthy presence of unremitting PNES is that so many patients are given a diagnosis as severe as PNES and are sent on their way without the appropriate referral to psychology/psychiatry.  Being referred to a health professional quickly, starting treatment, and working hard to get better will improve your chances of doing just that. 
But there is likely also a second contributor that adds to this prolonged suffering of PNES and it resides in the fact that so many mental health professionals are unfamiliar with PNES and even unwilling to take on such a case because they feel it is beyond their skill-set.  This results in patients being turned away and facing the added obstacle of having to educate and trying to convince the therapist to take them on.  Some patients report no luck even after making ten or more calls to therapists. 
It stands to reason that if you are suffering a serious condition, (psychogenic seizures included) and you do not receive treatment, you will probably be suffering it longer.  And this is very likely contributing to why 77% of the survey respondents have been living with PNES 1 year to >5 years after diagnosis.
Both of these problematic areas in health care of PNES need to be remedied.  Diagnosing doctors need to to have a proper referral source for their patients and mental health professionals must become educated. 
We are working to improve this.  Some of the projects that I have put in place include the publication of Psychogenic Non-epileptic Seizures: A Guide.  Royalties from this book are going to the Epilepsy Free Foundation (www.epilepsyfree.com) to support educational programs on PNES for health professionals in the near future and to provide continuing education scholarships for persons with PNES.   But I would like to hear from you, what else do you think we need to be doing and how?