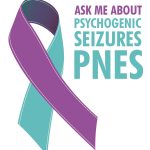 Psychogenic non-epileptic seizures will be highlighted for the third year in a row when the Northeast Regional Epilepsy Group (NEREG) holds its annual PNES conference in New Jersey on October 29, 2016. As always, the conference is free of charge and open to anyone who is interested in learning more about psychogenic seizures; this includes patients, caregivers, friends, nurses, and mental health professionals.
Over the past 2 years, we have had nearly 200 attendees and this year we expect at least another 100 audience members. The primary purpose of the conference is to bring PNES out of the shadows by inviting expert doctors to share the most novel information about how PNES should be diagnosed, treated, and how to best live with PNES.  The second objective (which is just as important) is to foster a strong community that includes patients, caregivers, loved ones, and dedicated professionals who can work together to better the life of those living with this potentially disabling and very serious condition.
Every year, our audience comes from all over the US including New York, New Jersey, Connecticut, Pennsylvania, Louisiana, Ohio, New Hampshire, and Maine. The last two years we even had an overseas guest from the Netherlands!
This year, we are honored to have world expert in pediatric PNES, Dr. Rochelle Caplan of UCLA join us to speak about Pediatric Psychogenic Non-epileptic Seizures: Risk Factors, Diagnosis, and Treatment. She will explain how risk factors for PNES in children are very different than those found in adults.  This is essential information for health professionals and for parents.
In addition, we will have Dr. Lorna Myers, Director of the NEREG PNES Treatment Program offer 1) an Introduction to Psychogenic non-epileptic seizures, 2) explain existing treatments for adults with PNES, and present available resources to maintain quality of life for those living with PNES. Epileptologist and Associate Director of NEREG, Dr. Christos Lambrakis will explain how PNES is diagnosed using a Video-EEG and all the details that go into making the correct diagnosis. Clinical neuropsychologist and co-director of the NEREG Neuropsychology Department, Dr. Robert Trobliger will tell the audience about pediatric psychogenic non-epileptic seizures-diagnosis and treatment from a neuropsychologist's perspective.
Just like we did last year, we will also allot time to give a voice to PNES stars- Kate Berger, author of View from the floor: Psychogenic non-epileptic seizures: A patient's perspective is planning on joining the conference through Skype. PNES advocates Lee Paolella (designer who raises awareness of PNES through her graphics) and Eric L. Nelson (PNES advocate and the person who proposed the official awareness colors of PNES) and Millie Nelson (founder of the PNES caregivers Facebook page) will also be on hand to speak with others interested in becoming more active in the movement.
To register for this conference: http://nonepilepticseizures.com/epilepsy-psychogenic-NES-events-news-conference-2016-10-29.php