Can someone tell if the difference between a PNES spell and an epileptic seizure (ES) just by looking at the spell itself? 
Answer: NO
What is Video EEG Telemetry and how is it useful to make a PNES diagnosis?
Newer technology allows doctors to monitor electrical activity in the patient's brain during epileptic events.  In order to do this, 10-20 cables are attached (with special adhesives) to the patient's scalp and the electrical activity of the brain is monitored for some 3-4 days. This is called: electroencephalogram, or EEG.  More recently, the use of special cameras has been added to this procedure; this is called: Video EEG (VEEG).  During VEEG, the patient is connected to an EEG machine in a hospital room that is equipped with cameras. This way, when the patient has a spell, the doctors can look at both the brain wave data, as well the images on video of the patient's episode and see if they are consistent with ES or PNES. 
In persons with PNES there are usually no abnormal electrical changes in the brain at the time of the seizure.
NOTE: it is very important for doctors to know that VEEG monitoring has lim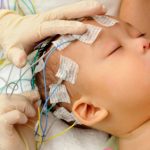 itations.  Some epileptic seizures are not easily detected on EEG because they occur in small or deep areas of the brain and might not be picked up with the EEG monitoring.   Thus, in order to increase the likelihood of detecting EEG abnormalities, multiple "typical" events should be recorded and other professionals might need to be called in for consultation.
Some of the main reasons why Video-EEG is so strongly recommended as the means to a PNES diagnosis are:
1) PNES attacks can often resemble different types of epileptic attacks and can be very hard to differentiate.
2) Horribly traumatic events or a dense psychiatric history in a patient may be a red herring.  V-EEG could provide tie-breaking information.
3) Epileptic and psychological non epileptic seizures may co-exist in some patients and will require two very different treatments. 
So remember, making a diagnosis of PNES based on what the events look like or because a patient has a psychiatric history and one or more seriously traumatic experiences in the past is risky and can lead to an incorrect diagnosis. 
Why is making the right diagnosis so important (as if we really need to ask)?
If the doctor diagnoses someone with PNES when in fact the patient has epileptic seizures and proceeds to remove anti epileptic drugs and to send the patient home, this could seriously endanger the patient's well being.  They may have a seizure that could prove harmful or even deadly.
Similarly, if a diagnosis of PNES is missed, the patient may be subjected to years of treatment with powerful anti epileptic drugs that are unnecessary and possibly suffering side effects.  He/she will also have gone all that time without the appropriate treatment and the PNES runs the risk of becoming "chronic" and hard to treat.