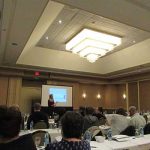 The date has now been announced: October 20th, 2018 from 8:30AM-4PM
The place has also been announced: Malcolm Forbes Auditorium
Morristown Medical Center
100 Madison Ave, Morristown, NJ 07960
Now, all we need is to hear from you about what you think would be the best topics to present that day for an audience that is made up of patients, loved ones, nurses, and mental health professionals. Are there any issues you are interested in hearing more about, any burning questions about PNES?
To get you started, I am listing last year's presentation topics:
Introduction to Psychogenic non-epileptic Seizures (PNES) –Lorna Myers, Ph.D.
How are psychogenic seizures diagnosed- Christos Lambrakis, M.D.
Treatments for PNES: evidence-based and new frontiers–Lorna Myers, Ph.D
The neuropsychology of PNES-Robert Trobliger, Ph.D.
PNES advocates speak: Eric L. Nelson and Millie Nelson and Brittney Marie Guertin
Maintaining your quality of life while living with PNES-Marcela Bonafina, Ph.D.
Caring for the Caretaker and local available resources-Ruifan Zeng, Ph.D.

We might repeat a couple because this is useful for newcomers who haven't attended previous conferences but we want to add new topics.  So, please help.  Type in any ideas you may have and we will seriously consider them.
By the way, registration will open soon. As soon as that happens, I will announce it.  Also, we are seeing about getting educational credits for psychologists and about perhaps having the event filmed so it can go online.