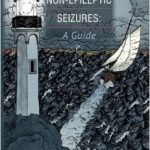 For the past year and a half I have been writing a book on psychogenic seizures for those living with PNES as well as their caregivers and the professionals who work with them. 
As we all know, psychogenic seizures look very much like epileptic seizures, but are not triggered by electrical anomalies in the brain but rather by emotional stress. 
Psychogenic seizures represent a very serious psychological disorder that for unknown reasons is almost invisible.  If you go on-line and search for PNES or psychogenic non-epileptic seizures, only a few pages show up and if you look for them on the American Psychiatric or Psychological Association pages, you won't find them. 
It is mindboggling that a condition that has such a devastating impact on the lives of persons suffering from PNES and their caretakers is not represented more and that there is not more reliable information on it.  I am surprised that this is the first book that I know of written for patients by a treating professional. 
This book "Psychogenic Non-epileptic Seizures: A Guide" (ISBN-10 1492881414) was written to fill the information gap that exists regarding this disorder.  It presents a description of psychogenic seizures: what they are, what causes them, who is most vulnerable.  It offers essential knowledge about PNES and the tools necessary to take charge of it.  The book includes thorough explanations detailing how trauma, anger, depression, and anxiety can promote and maintain PNES in most cases.  And it provides some tools that can be useful in helping those with PNES begin to change the thoughts, feelings, and behaviors.
You can find it on Amazon.com at this link:
http://www.amazon.com/Psychogenic-Non-epileptic-Seizures-Lorna-Myers/dp/1492881414/ref=sr_1_2?s=books&ie=UTF8&qid=1390824900&sr=1-2