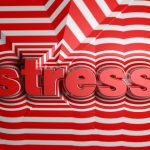 The question I hear from almost all my patients who have received the diagnosis of psychogenic seizures the first few times we meet is: "How can I have a stress condition if I am not feeling at all stressed?
The answer is: There is a difference between feeling stressed and being under stress.   And developing awareness and understanding of this in persons with PNES is an essential part of treatment.
What is stress?  Stress is pressure.  It is brought on by external demands that threaten to unbalance the balance that existed until then.  Stress can present itself through concrete problems such as financial concerns or failings in physical health, or interpersonal conflicts (arguments with family members or friends, infidelity, problems with teenage sons/daughters, etc., etc.), or major life changes (divorce, the arrival of a newborn, deployment of a relative, legal problems, etc., etc.).   
The problem is that for most of those diagnosed with psychogenic non-epileptic seizures there is not always a full awareness of the presence of these stressors.  There are a number of reasons this might be the case: 1) there is so much going on that there is simply no time to stop and assess 2) or it may be so hard to wrap one's head around all of the dimensions of the problem that pushing it aside and moving forward is all that is available, 3) or it may seem wrong that something positive such as the arrival of a newborn could be considered stressful. 
Regardless of the reason, recognizing that you are under stress is the first
and most important step in treatment of psychogenic seizures. Psychogenic non-epileptic seizures are clearly stress-driven.  And the only way you can come up with an efficient strategy to tackle it head on is by first recognizing it is there. 
So even if you are not feeling particularly stressed, look objectively at your life and ask yourself, might this be stressful, would someone else find these events and conditions stressful?  You may be surprised at your answer.