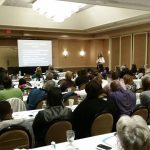 For six years straight, the Northeast Regional Epilepsy Group (NEREG), hosted an annual PNES conference for patients, caregivers, and in the later years, for health professionals too. Our last conference was held on 2019 and then, as we all know, the world ground to a halt due to the 2020 pandemic.
Although we did not host our 7th annual PNES conference last year, there have been very positive changes that have occurred over the last few months and it looks like the PNES Conference will be happening in 2021.   Mainly, FND Hope (https://fndhope.org/) has a new USA Executive Director, Monica Park. With her arrival to the post, she has brought energy, vision, and dedication and has taken over organizing the 2021 PNES Conference.  This year, as we have become accustomed, the conference will be held virtually which will allow the impact of it to be national and international. New topics and new speakers will also characterize this year's event.  Continuing education credits for health professionals will attract clinicians which is extremely important to ensure that more health professionals know what PNES is and how to work with this condition.
Now this next part is really important because this is where you come in.  Monica Park and FND Hope need to better understand your interests, ideas, and needs. They are asking for community input on what you would like to see discussed at the conference and whether you would like to participate in some way. Please take a couple of minutes and answer this survey.
I can't stress this enough.  If the PNES community is going to see major changes occur in how the general public, health professionals and families see and treat those with PNES, all of us need to come together and a conference such as this one, is a tremendous vehicle to move things in that direction. So, I hope you start by responding to the survey, plan to attend, maybe volunteer (if that is a possibility for you), and anything else that comes up.