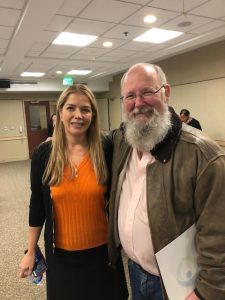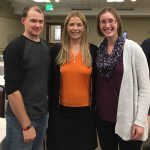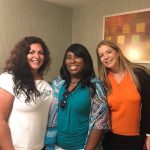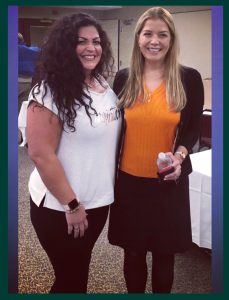 This past Saturday, we held a historic annual conference on psychogenic non-epileptic seizures (PNES)! Historic, for many reasons, one of which is because it was the FIFTH year running that we have hosted this meeting. And as we have now become accustomed, it was successful on many, many levels and left us all feeling energized.
There were two especially novel and exciting changes this year. We heard and responded to something some had mentioned to us in past years: that it is challenging and expensive for many to travel to New Jersey from distant states or distant countries. It took a lot of teamwork and collaboration between our staff, Teejan and Beabers Wojohk and the Morristown Hospital audio/visual and IT departments, but on the day of the conference we had a livestreaming option in place! Over 50 individuals registered to attend the conference through their computer and a quick glance showed these attendees were from the west coast, Texas and even Canada.  After an initial hiccup with the sound quality, Teejan and Beabers worked their magic and it was all smooth sailing after that.
The other major change this year was thanks to Melissa Carollo, the Northeast Regional Epilepsy Group's general manager. For several months, she doggedly worked on obtaining continuing education credits for social workers and psychologists attending the PNES conference. And, right in time, she was successful!  On the day of the conference, mental health professionals who registered could earn up to 6 continuing education credits. Fifteen psychologists, social workers and psychiatric nurse practitioners registered and showed up on Saturday.  This had been a bit of a dream for us because we know that the best way we can make things better for persons living with PNES is to make sure a growing number of mental health professionals are familiar with and knowledgeable about this condition. We can now say that as of Saturday, 15 professionals attended a full-day educational program on psychogenic non-epileptic seizures and we hope will go back to their offices feeling open to treating PNES.
Other things remained the same and worked out very nicely. Just like last year, our location was at the Morristown Medical Center which generously offered to host our event again.  Again, we were also so fortunate to have our usual incredible support staff on the ground from beginning to end, handling registration, information and donations at the booths and helping direct everyone to the right spot and keeping us running on time.  As always, their work was impeccable. Just to name a few that were outstanding: Sonya, Bridget, Kim, Lucy, Melissa, and many more who know who they are.
Some of the topics of our PNES conference were the same as past years (mainly because they cover introductory topics) while others were brand new (identified with an asterisk). Our lectures were as follows: Introduction to Psychogenic non-epileptic Seizures (PNES) – Lorna Myers, Ph.D., Northeast Regional Epilepsy Group; How are psychogenic seizures diagnosed – Christos Lambrakis, M.D., Northeast Regional Epilepsy Group; The neuropsychology of PNES – Robert Trobliger, Ph.D., Northeast Regional Epilepsy Group; Psychological trauma, post traumatic stress disorder (PTSD) and PNES* – Lorna Myers, Ph.D., Northeast Regional Epilepsy Group; Psychogenic Non-Epileptic Seizures in Children and Adolescents* — Julia Doss, Psy.D. Minnesota Epilepsy Group; Psychotherapists: How to treat a patient who has PNES? Patients: how to explain dissociative seizures (PNES) to others?* — Lorna Myers, Ph.D., Northeast Regional Epilepsy Group. A quick look at the audience surveys shows that the talks were very well received and rated as top notch. Whew, that is always good to hear.  J
And as has become tradition, at the end of the day, all who wished to remain were invited to form part of an informal round table gathering for audience members to continue networking.  A big difference this year was that our round table group was joined by mental health professionals who were able to interact directly with patients and caregivers and to make suggestions from their perspective.
Last of all, a big shout out goes to all of our audience members, several who have been at the meeting for five years running (Monique, Eric, Millie), others who have been coming for a couple of more and some who came for the first time ever. In some ways, it felt like a reunion of old friends coming together. And those old friends made the new members feel very comfortable and welcome.
In sum, the FIFTH Annual PNES conference on October 20, 2018 was super. I hope it helped those who attended learn much more about their health condition and the treatment options and also energized them to continue to fight for awareness and de-stigmatization of psychogenic non-epileptic seizures (PNES) when dealing with the general public and with those who work in the health field.
See you next year!