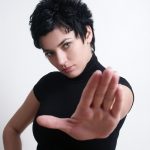 Research shows that a very high number of persons with PNES have suffered abuse in the past (see past blog posts). And experiences of abuse go along with distress and fear. So, PNES is commonly seen as fueled by anxiety and fear by clinicians.
However, I am sure you have heard of the "fight or flight" response that gets activated when we encounter danger. This response ensures that our body and brain get ready for evasive or hostile action to allow us to survive. Flight ties in with the emotion of fear. Fight ties in with the emotion of anger.
Both these emotions are necessary to ensure our survival and are useful throughout our lives. However, when they become overactivated and can't come down even when the threat is long gone, we have a problem.
PNES is likely fueled not just by FEAR but also ANGER.
My patients often explain to me that they see themselves as "angry" and needing to control themselves so as to not explode or become overly emotional. But in order to control this anger and avoid a blow up, they often end up allowing others to ignore their needs or steamroll their rights. Logically, this only leads to more anger, resentment and frustration.
By bottling up anger you miss the potential value that anger has in the first place which is to alert you about something and defend you. There is another option to 1) explosive anger or 2) bottling up anger; the option is becoming ASSERTIVE. A person who is assertive is not a violent person. Assertiveness is being able to speak up for your rights, for your needs, ask for clarification, be persistent, and disagree. It takes practice but the good news is that you CAN learn to be assertive and studies have shown that it can improve your interpersonal life, your self-esteem, and your quality of life. Defusing lifelong habits and replacing anger suppression or explosion with assertiveness and anger management are important therapy goals for PNES patients.