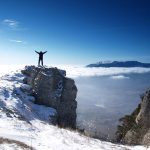 Katie is 22 years old and will graduate from college this spring.  She has also had psychogenic non-epileptic seizures for 4 years.  She contacted me because she wants to be a voice and advocate for PNES, to help others realize they are not alone and that there is hope, and to make positive strides for this condition.    So this month's blog post is different than all the previous ones I have posted.  It allows us to hear the voice of someone who actually has PNES; not a doctor who treats PNES.  A very important shift in perspective.  Welcome, Katie and thank you!
The first time I had a seizure, I felt like my body had betrayed me. I had spent 18 years carefully developing control of my body, only to have it stripped away in a single moment. I felt out of control, scared, and alone. Supportive, loving people surrounded me, but no answers. No one could explain what was happening and I discovered I could only go through so many doctors' appointments that ended with shrugged shoulders and yet another referral before I would begin to lose heart. A doctor scribbling the diagnosis "pseudo-seizures" in my file, the look of panic and uncertainty when a friend saw me crumple to the floor for the first time – these were the moments that discouraged me.
I had my first seizure four years ago and I continue to have them today. Due to the makeup of my body and my mind, these events persist. It is a challenge living in a world that does not understand this diagnosis and it can be discouraging and disappointing; it can cause you to doubt your quality of life. I struggled with that question, and sometimes still do. Somewhere along the way, though, I made a decision. Seizures demand moments of my life, but I am going to demand the rest. They can have me in the moments when they force me down to the floor, but they cannot have my life. It has taken enormous time and energy, but I have learned to work with this condition. My life looks different than the lives of those around me, but it is one I fill with joy, faith and triumph whenever possible. It is not easy and there are many days when I long to give up. Days when my muscles ache and I am weary of explaining this condition. Yet, I continue to leave the house each day, and implore you to do the same, because PNES should not define us. It is a component of who we are, but it is not all we are. I may have PNES, but PNES cannot have me.