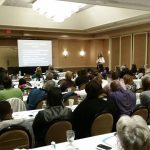 Five years ago, at the Northeast Regional Epilepsy Group, we took a leap into the unknown and organized our first ever PNES conference for patient and caregivers. Just days before the conference was to take place, we were understandably nervous.  We wondered if anyone would even show up, if there was any interest in the topic, and if this would be the first and last PNES conference.
Fast forward now to five years later. Unbelievably, we are now holding on October 20, 2018 our FIFTH annual PNES conference. Many things have changed: we are now sort of "old hats" at organizing the conference, we have brought in new topics, new speakers (including one of the co-authors of "Pediatric Psychogenic non-epileptic seizures: A Treatment guide"- who is calling in from Minnesota), we are working on live-streaming for the first time ever in order to reach those who cannot travel, and we are also working on providing continuing education credits for psychologists and social workers.  This last piece is extremely important to ensure that more mental health professionals know what PNES is and how to work with this condition.  This year's event promises to be the one with the most assimilated audience combining professionals, patients and caregivers all in one room.
Some things however have not changed and we are happy about that. To begin with, we will repeat our location venue at the Morristown Medical Center which again-this medical center has generously offered to host our event.  We will continue to have our usual incredible support staff on the ground from beginning to end, handling registration, information and donations at the booths and helping direct everyone to the right spot and keeping us running on time.  We will be providing breakfast and lunch and having breaks in between in which our speakers can chat privately with some audience members. We will also be happy to see some of the audience members who have attended once or twice (two of them will be coming for the fifth time straight).  These audience members have become part of the team and it warms our hearts to meet up every year.  Another thing that remains unchanged is that those in attendance will be coming from all over the US, some as far a Utah and Oregon!
Our PNES conference will include the following topics: Introduction to PNES, Diagnosing PNES, Psychological trauma, post-traumatic stress disorder (PTSD) and PNES, the neuropsychology of PNES; Psychogenic Non-Epileptic Seizures in Children and Adolescents, Psychotherapists: How to treat a patient who has PNES? Patients: how to explain PNES to others? .At the end, as has become customary, we will hold our informal round table gathering for audience members who wish to stay behind and continue networking.
We hope that anyone who wants/needs to learn more about PNES saves the date and either comes in person or logs on. Anyone who has an interest in PNES is invited including friends, family members, those who carry the diagnosis of PNES, professionals who work or may want to work with PNES, etc. are most welcome to join us.  To register, scroll down to the bottom of this link.  Remember, attending the conference is totally free of charge as always, but we do need to know how many people to expect which is why we encourage early registration.  http://nonepilepticseizures.com/epilepsy-psychogenic-NES-events-news-conference-2018-10-20.php