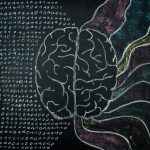 Over the summer, I was reading a book authored by Dr. Michael Trimble "Why Humans Like to Cry: Tragedy, Evolution, and the Brain." For someone who is seeking to understand how psychogenic non-epileptic seizures occur, the research he discusses in the book is intriguing.  The research he cites offers a sound and reasonable explanation of how these seizures are not consciously "faked" by the patients.  It also offers an understandable explanation to the patients themselves who often state that they were not aware of any trigger or stress before the psychogenic seizure occurred.
In his book, Dr. Trimble begins by discussing the many emotions that humans are capable of feeling including primary emotions: fear, anger, happiness, sadness and disgust and social emotions: Shame, guilt, compassion, jealousy, awe, and revenge.  He goes on to explain that events felt as emotions are triggered by external and internal bodily stimuli.
Now the book gets really interesting from a psychogenic non-epileptic seizures (PNES) perspective when he begins to talk about how there is a growing body of research that is showing that conscious awareness is not initially involved in the reactions our body has to these stimuli.  He refers to the concept of NEUROPERCEPTION (electrical discharges are processed at a neuronal level) versus PERCEPTION (conscious awareness and recognition of the stimuli).  He explains that neurons finish processing an event half a second before the information it processed reaches the conscious brain; this is called: Pre-attentive emotion processing. There are brain structures that are processing stimuli before any of this has reached awareness.  In fact, emotional responses in the amygdala (brain structure involved in emotional and memory processing) can occur rapidly without conscious awareness, triggering responses that have not reached or been processed by the conscious mind.  Therefore, a psychogenic non-epileptic seizure might easily be triggered without the person who suffers the seizure being aware of what triggered it.