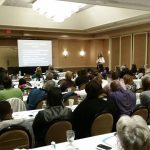 This year's conference promises to be superb.  We are honored to have as our invited speaker, pediatric neuropsychiatrist, Dr. Rochelle Caplan of UCLA (http://people.healthsciences.ucla.edu/institution/personnel?personnel_id=8660) and we will have several other wonderful speakers talking about both PNES diagnosis and treatment in adults and children.  We are also working to set up talks by a few new PNES advocates along with our traditional ones. As of now, we are in communication with two PNES advocates including Kate Berger (author of View from the Floor) and Greta Cronje (author of two peer-reviewed journals who also suffered PNES in the past).  Just like the first two years, registrations are coming in from all over the US: Texas, Oregon, New Mexico to mention just a few. To register: http://www.epilepsygroup.com/register_events.php?idseccion=6&idsubseccion=20&event_name=%20Annual%20Northeast%20Regional%20Epilepsy%20Group%20Conference&event_location=NY&event_date=2016-10-29
There is a history to this conference that I think is important to share with you.  Three years ago, the Northeast Regional Epilepsy Group held its first ever conference on PNES for patients and caregivers.  For years, I had dreamt of having such a conference but several of the organizers (including myself) were concerned that there might not be enough interest in the topic of PNES.  On the other hand, we felt it was really important to educate the patient and caregiver community so even if it was risky, we needed to try.
I am so glad we did take the risk and go ahead and organize the conference.  We had nearly 100 people in attendance!  The audience came from all over the USA: Maine, Iowa, Washington, DC, Kansas, Pennsylvania, and of course New York, New Jersey, and Connecticut. Remember, NYS is huge so some "locals" had traveled over 5 hours to be there.  And one visitor was from the Netherlands!
Who were they? They were patients, spouses, parents, friends, caregivers.  And they had made the trip out and reserved the whole Saturday to sit in on this conference because they were urgently feeling the need to become educated about this condition.  Many explained that they had simply been given a diagnosis at their local hospital and were promptly shown the door.  Others had gotten more than that but were still having the seizures and needed to know if there was any more recent research that could point them in a new direction for treatment.  Most had been trying to understand what it meant to have psychogenic seizures on their own and many felt like they were the only oddball who had PNES.
I think the feeling of being the only oddball was the first thing that the audience learned was not true, rather, the room was full of people with PNES or who cared for someone with PNES. A patient of mine told me later that this was the most important part of her day, she liked the people she met and laughed about not finding anyone who had "three heads"-they were all "normal."   The whole day was then spent learning all about PNES from different expert speakers, many questions were asked and many answers were provided. The other really positive outcome from the conference was that a grassroots community was started that year: the #saynotopseudo hashtag, the PIES for PNES, the Nelson couple later joined the board of Epilepsy Free and helped design a PNES awareness T-shirt, and an online network blossomed providing support to PNES caretakers.
By the second conference, that grassroots community had grown into an organized set of PNES advocates who presented to the audience: Lee Paolella (graphic designer for PNES awareness), Nadine Boesten (PNES blogger), Kate Taylor (author of the Color of Seizures), and the Nelsons (PNES advocates and founder of Facebook for caregivers of those with PNES). We also felt way more confident than the year before and went ahead to invite a speaker- Dr. Gaston Baslet of the Brigham and Women's Hospital in Boston who spoke eloquently about scientifically based treatment options.
On October 29, 2016, if PNES has touched your life in some way, I invite you to come to the conference and become part of this strong community.
Knowledge and union are Power.