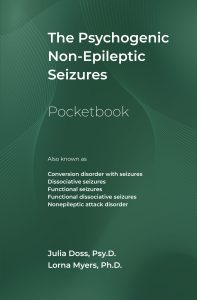 The first time I saw a patient diagnosed with PNES was when I was a neuropsychology fellow at an epilepsy center over 20 years ago. Early one morning, I was in a group of trainees and staff and we were visiting patients on rounds with the attending doctor. Before entering one of the rooms, the doctor announced that we would be seeing a patient with "pseudoseizures."  He then interviewed the patient and as we left, I followed him to ask what would happen to this patient. He said: we are going to send her to psychiatry and then she is going to have a seizure in the psychiatrist's office and the psychiatrist will probably send her right back to us saying that what he witnessed could not possibly be psychogenic. She will spend years going back and forth and may never get better.
I was young and idealistic, so the doctor's pessimistic attitude lit up a fire in me.  It made me want to change what seemed like a terrible disservice to these patients.  As a clinical psychologist who was also training in neuropsychology, I was in a somewhat unique position to actually do something about this. So I requested permission from my training director to open a therapy group and to begin to treat a few patients individually and with that began what has been my lifetime's commitment to those living with and trying to overcome PNES. Now, more than twenty years later, I am so very pleased to see how far PNES has come in terms of what we know about how PNES develops, the important individual and group differences that exist, and I am especially thrilled to see how many tailored treatments there are for those with PNES! 

However, despite publications in peer-reviewed journals, seminars, webinars, and presentations in national and international meetings, SIGs, committees and societies, these advances remain circumscribed to a relatively small circle of specialists who cannot possibly assess and treat all the patients who have this type of seizure.   And this is very frustrating! 

From that frustration emerged the idea to write the Psychogenic Nonepileptic Seizures (PNES) Pocketbook. The goal of this pocketbook is for it to provide all the information that a psychotherapist, physician, nurse, or counselor might need to learn before they meet with their first person diagnosed with PNES.   The aim is to share what we know about PNES in the core group of specialists and to make it available to community therapists and clinicians so that patients can access proper treatment and guidance in their community without having to travel to New York, Massachusetts, California, Minnesota, or Rhode Island (believe it or not, that is pretty much where all the PNES experts and programs are located) for their treatment.
And with this goal in mind, Dr. Julia Doss who is one of the world's leading PNES experts in children and teens and I, who could be argued am one of the world's leading PNES experts in adults decided to come together and to pour our knowledge about PNES into a single volume. The Pocketbook contains clear and concise explanations about diagnosis, treatment and practical advice that patients may ask of their clinicians depending on their life circumstances.  We truly hope that this little pocketbook will make its way to community clinics, private offices, nurses' and doctors' desks and who knows where else over the next few years. We hope it will expand the number of professionals who know what PNES is and who will decide to work with these patients. And especially, we hope that the days when patients were bounced back and forth like a ping pong between neurology and psychiatry become a thing of the past.  Coming soon: Dr. Julia Doss will explain her reasons for writing the PNES Pocketbook.
To purchase: The Psychogenic Non-Epileptic Seizures Pocketbook: also known as Conversion disorder with seizures Dissociative seizures Functional seizures … seizures Nonepileptic attack disorder: Doss, Julia, Myers, Lorna: 9798851431050: Amazon.com: Books