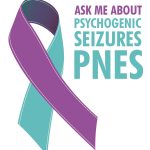 In March of 2011, I blogged about an important topic: what is the proper name for "psychogenic seizures."  Recently, there has been a renewed interest in how we call this condition.  In particular, the question that has arisen is whether the word "seizures" should be in the label.  In addition, there are a number of patients who reject the term "psychogenic."
The current scientific term for this condition in the USA is psychogenic non-epileptic seizures (PNES).
Let's start talking about Psychogenic which simply means that the symptoms are from of mental or psychological origin.  Some patients take offense to the term "psychogenic seizures" because they reject the psychological origin of these events and would rather call these "functional symptoms."  Functional is preferred because it underscores that there is no known organic cause but that there is a dysfunction that may be determined to have such a cause in the future.  My sense is that this functional/psychogenic argument stems from dichotomous thinking that sees mind and body as split when in fact PNES is a biopsychosocial disorder.
Psychogenic does not mean that it doesn't matter or exist or cause considerable distress. It simply means that certain psychological factors are in play in the development and sustaining of the symptoms.  Moreover, the fact that psychological treatments of PNES show improvements in seizure frequency and a variety of emotional measures underscores that there is a psychological component in the condition that we can target and treat (La France et. al, 2009 and 2014; Kuyk, et al, 2008, Mayor et. al, 2010; Zaroff et al, 2004; Santos et al, 2014 to name but a few).
References: http://www.ncbi.nlm.nih.gov/pubmed/19233313, http://www.ncbi.nlm.nih.gov/pubmed/?term=LaFRance+2014+CBT, http://www.ncbi.nlm.nih.gov/pubmed/18395473, http://www.ncbi.nlm.nih.gov/pubmed/15256198,
As for "seizures," although I am on record for having said in my blogs, book, and during interviews that it might be preferable to replace the term "seizures" for "episodes," or "events," I hear that many patients are opposed to this.  And they rightfully argue that their episodes look and feel like a seizure, and are perceived by others as seizures too.  So, I will go on the record again and say: let's go ahead and call them "seizures" as long as we are clear that these are not epileptic seizures and will not benefit from treating them with anti-epileptic medications or by going through countless unnecessary neurological tests and medical ER visits  (if there is no new medical issue).
The picture on this blog post shows the stunning PNES awareness ribbon that was created last year that stands for trauma/PTSD (teal) and seizures (purple).  Approximately 75-90% of patients with PNES have a history of trauma.