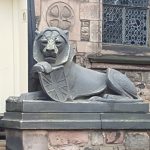 Early in September, I had the pleasure of attending a very exciting conference in Edinburgh, Scotland. The conference was historic and groundbreaking in many ways, not least of which was that the last International FND had been held a total of SEVEN years before!
First question to tackle before we move forward is: What are Functional Neurological Disorders? And why are we talking about them when this blog features PNES exclusively?
Functional Neurological Disorder (FND) is an umbrella term for a variety of symptoms that appear neurological but for which there is a suspected psychological origin.
A multiplicity of symptoms can fall in this category, including bladder and bowel problems, chronic pain, gait & balance issues, headaches, seizures, involuntary movements, paralysis & weakness, sensory issues, speech and visual problems.
PNES is now included under this umbrella term which is good because this classification makes certain sense, although I believe that PNES still differs considerably from some typical FND disorders especially with regards to certain risk factors and symptom measurements.
But back to the conference: it was so intellectually stimulating to have a three-day event in which experts from across the globe joined to present exclusively on FND, including definitions, diagnostic procedures, and treatments.  What was especially uplifting was to see the auditorium filled to capacity with an audience of engaged and actively participating professionals.  Poster sessions held every day in the middle of the day were also very invigorating and gave a healthy chance to converse with others from across the pond.
But since, we can always stand to improve, I would like to make a couple of suggestions for the next FND conference.  First, I hope it will not take another seven years to take place!  I would also like to suggest that in the future, the organizers do not schedule the very important session on treatment for PNES on the very last day and almost at the end of the day.  This year, it was scheduled at 1:45PM and as a result, many of the out-of-owners had left by that time.  What they missed were two exceptionally wonderful lectures on cognitive behavioral therapy by Laura Goldstein and on psychodynamic psychotherapies by Richard J. Brown. And in the future, it would be intriguing to hear about some of the newer psychotherapeutic modalities that are showing promise including trauma-based therapies (which were not covered at all this year) and mindfulness-based therapies and not just the more traditional ones.  Anyhow, that is MY wish list-not that anyone needs to listen to me.  But I just think these points could help improve what was already a fantastic educational event organized by Jon Stone, Alan J. Carson and Mark Hallet.  Bravo to all three of them!